Rampa Bobolas
Irrigation through nozzles
The Rampa Bobolas is produced continuously from 1986 until today, and thanks to its built very careful, offers remarkable performance and fully meet the farmers who use it.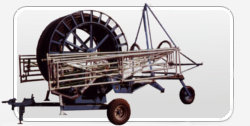 The maintenance of strict rules and constant quality control during the entire process of production, combined with the ease of use, make the Rampa Bobolas, unique in performance and durability.
With a relatively low overall weight of just 350 kg and thanks to its special design, is the lightest of its kind and requires for its operation a single person!
The Rampa Bobolas watering can with 26-44 nozzles. Depending on the amount of water supplied in the field, can be mounted more suitable nozzles (∅3 up to ∅10). In addition there is a mounting base for the "sprinkler" as well as a second line of water.
The maximum width of irrigation is 50 meters. It can, however, be reduced to 40, 30, and 15 meters depending on the width of the field. So without loss of irrigation water is faster.
It adapts to all the coils with ∅ 85 or more, provided that they have a hydraulic lifting system. In case of absence, one of our team of skilled workers and well equipped to carry out an on-site installation and also deal with your training for the best possible use of the machine.
The main features of Rampa Bobolas:
Folding wings - its wings capable of a width of 50 meters of irrigation, are made of 5 elements of 4 meters each, which folds back, facilitate road transport.
Galvanized steel - for maximum protection against rust.
360 ° rotation - in order to avoid any obstacles, it is possible its rotation.
Lift - in the normal position the height of the wings is one meter. Depending on the cultivation is possible to lift it in a very simple up to 2.8 meters, while maintaining the possibility of rotation and oscillation.
Vertical oscillation - for irrigation of inclined surfaces and the overcoming of obstacles the wings auto-abjust.
Horizontal oscillation - to maintain the trajectory even under strong wind.
Stabilizer - has a guidance system to maintain its trajectory.
Filter - mounted at the entrance of the central duct filters the water so as to avoid obstructions at the level of the nozzles.
Operated from a person - with a total weight low and due to its design, for its operation, requires only one person!
Unique without cables of steel - despite the low weight and the fact that it is constructed only by tubes of steel, is very resistant to any type of mechanical stress.
Elements which make the Rampa Bobolas necessary for crops are:
The perfect decompression of the nozzles with lower pressure in the coil.
Zero water leaks even with wind force 7.
The savings up to 30% of water, fuel, electricity, irrigation times.
The uniformity of irrigation increases the production of cultivation and of course the profits.
The spray irrigation for sensitive crops.