Our products offer:
Drip irrigation!
Drip irrigation is an irrigation method which saves water, depositing the water directly to the root zone of the plant.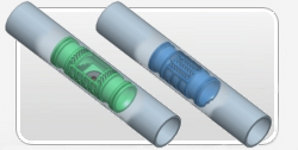 This type of irrigation saves energy and water because it feeds the roots of each plant with the right amount of water, while also achieving in this way a lower evaporation thereof.
Our Drip line can easily be used to irrigate any crop, including greenhouses, vegetables, flowers etc.
Our many years of experience in the construction of the Drip line accordance with strict Standards of production, guarantee the high quality of our products.